Welcome to diegoriverajazz.com!!!
---
Latest News 6/5/16:
New Dates Added!! Click on 'Gigs' for more info
Latest News:
Diego Rivera has been named "Artist In Residence" at Cliff Bell's this Labor Day Weekend. His quartet will perform August 29-31. With so many great musicians in town, you never know who will show up! You don't want to miss this one!
Click on 'Gigs' for more information or visit: www.cliffbells.com
Performing this week with Sean Dobbins Organ Quartet @ The Dirty Dog Jazz Cafe.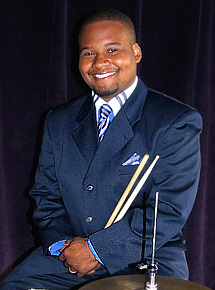 SEATING TIMES:
Wed & Thur. Mar. 5 - Mar. 6
Seatings: 6:00 & 8:30 No Cover
Reservations Recommended

Fri & Sat. Mar. 7 & Mar. 8
Seatings: 6:00 & 8:30 $15 Cover
Reservations Recommended

DESCRIPTION:
Jazz drummer Sean Dobbins brings his quartet to the Dirty Dog for performances filled with hard-driving, solid rhythm music. Sean's influences include Art Blakey, Jeff Hamilton, Jeff "Tain" Watts, Ed Thigpen, Sonny Payne, Gerald Cleaver and Elvin Jones.
---
11/4/13:
TICKETS ARE ON SALE NOW for the upcoming Nov.23 CD RELEASE PARTY @ The Creole Gallery with the Diego Rivera Sextet. The show features selections for "The Contender" performed by a stellar line-up including:
Dwight Adams-Trumpet
Michael Dease-Trombone
Rick Roe-Piano
David Rosin-Bass
Nate Winn-Drums
CLICK HERE TO PURCHASE YOUR TICKETS
---
"The Contender" has climbed to #11 on the JazzWeek Charts!!!
---
In addition to moving to #15 on the JazzWeek Charts, "The Contender" has been selected by KUVO Radio in Denver, CO as the "CD of the Month" for October 2013. Thanks go to Arturo Gomez. Happy listening, Denver!!
"The Contender" is now on sale!!! Get your copy on iTunes | Amazon | CD Baby. Be sure to join The Diego Rivera Quartet at The Dirty Dog Jazz Café to celebrate the release Sept. 18th-21st. Click here for more info.
---
New Dates Added! I will be joining my fellow MSU Professor of Jazz, Etienne Charles in celebration of his new album, Creole Soul at The MSU Broad Museum in East Lansing, MI & the Kerrytown Concert House in Ann Arbor, MI. It spent a well-deserved 3 weeks at the top of the charts. Click here for more info.
---
8/11/13 - (Chicago, IL) On Sunday, Aug. 8, Diego join the stage with the Etienne Charles Quintet at the famed Jazz Showcase for the UNICEF Haiti Jazz Fundraiser. More info here.
---
7/30/13 - Join The Diego Rivera Quartet to celebrate the release of 'The Contender' September 18-21st at The Dirty Dog Jazz Café. Michigan's best jazz club! Click on 'Shows' for more information.
---

7/30/13 - NEW WEBSITE!!! Welcome to the new diegoriverajazz.com. Join the email list for updates on news, shows and events for the release of Diego's newest record, 'The Contender'.